Stumbled across some nice Brooks ads from the 1940s, thought I'd share them here. I get the impression that Brooks didn't quite understand what it had with the Ivy League style yet... Interesting anyhow, though.
(1940)
Lots of Ivy League staples there, but still advertised for playing tennis.
(1940)
Madras shirts... for the beach. Interesting that their buttondowns are apparently made of a cotton cheviot from Scotland... Can anyone help shed some light on the difference between a cheviot weave and an oxford weave?
(1940)
Classic natural shoulder jacket.
(1940)
Hawaiian shirts... Trad? :icon_smile_big:
(1940)
The model here seems to have some waist suppression... I didn't realize they'd made a waist suppressed suit before the No. 2 in the early 1960s... Note the collar pin.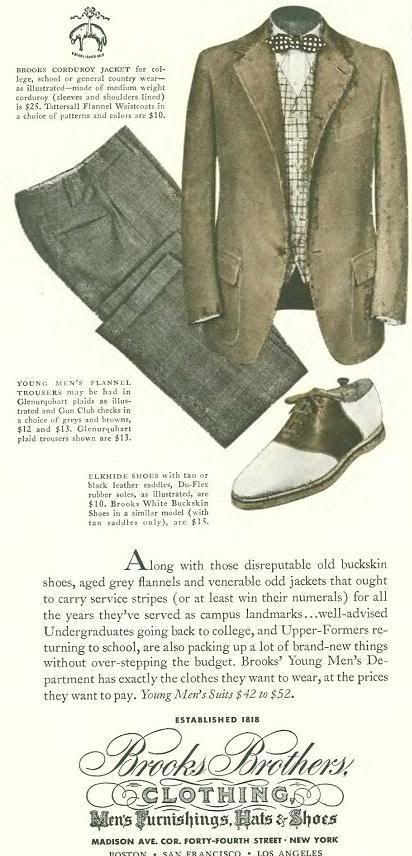 (1940)
This ad seems to suggest that Brooks was at least aware that something was happening on campus...
(1940)
"Anonymous but unanimous"... I like that.
(1940)
Anglo-inspired waist-suppressed double breasted, featured with derby bowler and dress gloves, for maximum effect.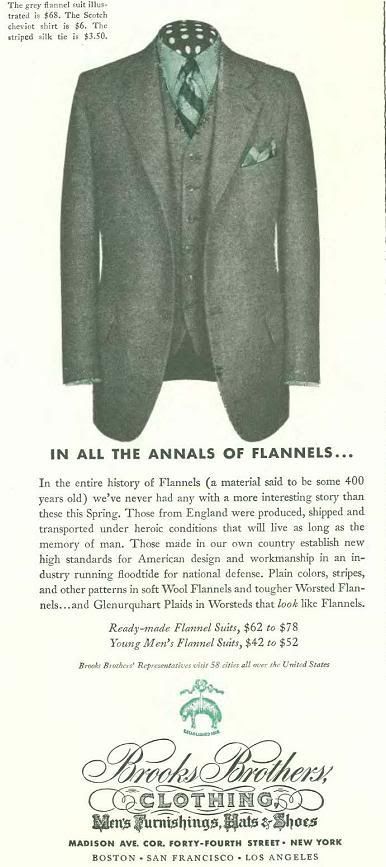 (1941)
Is that a green buttondown? I suspect the matching tie was due to the expense involved in printing color ads...
(1941)
(1941)
Uruguayan rope-soled espadrilles? That's a sharp-looking bathrobe, though.
(1941)
(1942)
Brooks acknowledged the war, but it didn't seem to drain off their customer base to quite the same extent as the Ivy-based clothiers.
(1942)
Note the early use of rayon.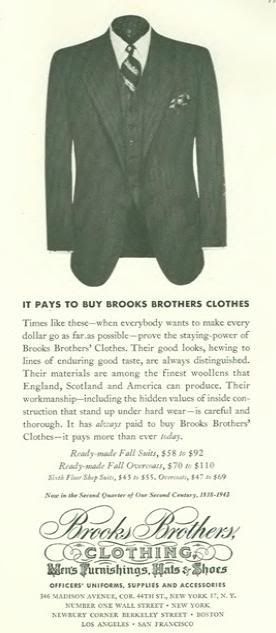 (1943)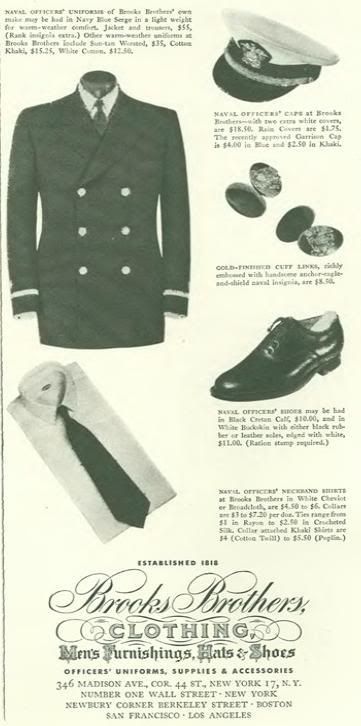 (1943)
(1943)
Pink OCBDs for the summer.
(1943)
Spring overcoats.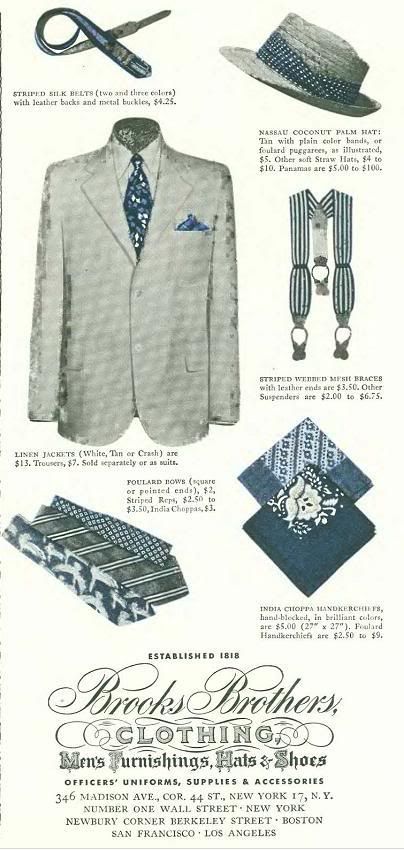 (1943)
Silk surcingle belts! Does anyone make these anymore?
(1943)
Wool bow ties! Anyone making them this fall?
(1944)
(1944)
More (most likely uncomfortably hot) spring overcoats!
(1945)
(1945)
(1946)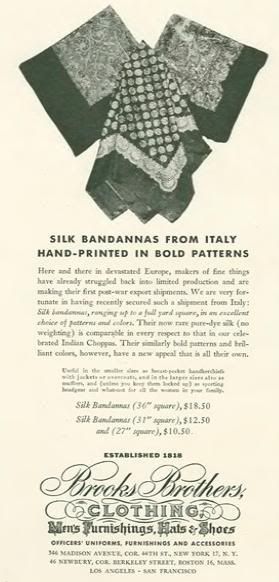 (1946)
(1946)
(1946)
(1947)
So before they used slubby short-staple cotton???
(1948)
Note the cordovan.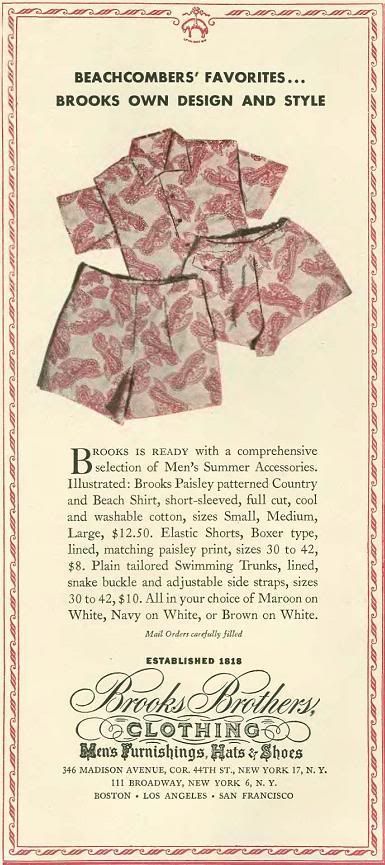 (1948)
Paisley!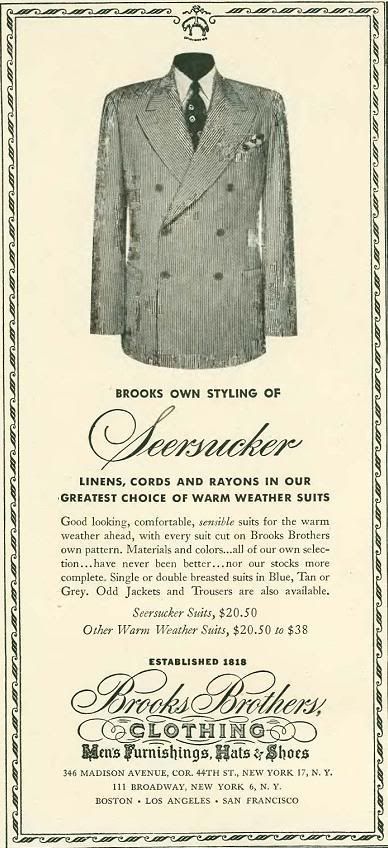 (1948)
Apparently J. Press wasn't the only one doing double-breasted seersucker... surprising they'd still be pushing the old Anglo suppressed double breasted this late in the game. Was Brooks the first to do tan seersucker?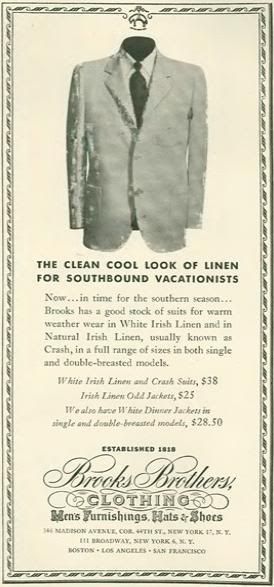 (1949)
Apparently "Crash Linen" just meant undyed natural linen before J. Press latched on to the term?
The things one learns!
Last edited: