'The Style of...' series was created to showcase gentlemen - past and present - whom I believe to have a particularly compelling sense of style. I've included photographs progressing through the course of each man's life, interspersed with a few of his quotations. Please feel free to add additional photographs and quotations! Past subjects have included Charles Chaplin, Somerset Maugham, The Earl of Avon, HRH Prince Michael of Kent, Gore Vidal, and William Faulkner, among others.
~~~~~~~~~~~~~~~~~~~~~~~~~~~~~~~~~~~~~~~~~~~~~~~~~~~~~~~~~~~~~~~~~
Sergei Vasilievich Rachmaninoff ​
(1873-1943) was a Russian-born High Romantic composer, pianist, and conductor. His work is legendary - and the best way to learn about him is by listening!
Here is a very interesting (and historic) Russia-based audio file of his complete 3rd piano concerto, as played by Van Cliburn in 1958 at the first quadrennial Tchaikovsky International Piano Competition - which famously won Cliburn the Prize, and warmed East-West relations at the height of the Cold War:
The best-selling record resulting from Cliburn's subsequent recording in New York introduced many people to the concerto's now-notorious (and exquisitely passionate)
Ossia
cadenza - which at the time was rarely performed.
All quotations are those of Rachmaninoff himself.
Enjoy!
~~~~~~~~~~~~~~~~~~~~~~~~~~~~~~~~~~~~~~~~~~~~~~~~~~~~~~~~~~~~~~~~~
Music is enough for a lifetime, but a lifetime is not enough for music.
My outlook is a product of temperament, and so it is Russian music. I have never consciously attempted to write Russian music, or any other kind of music.
There is in the whole world no critic more doubtful of me than I am of myself.
Each performance is a challenge to attain that inner ideal, the complete realisation of which will always be to some degree elusive.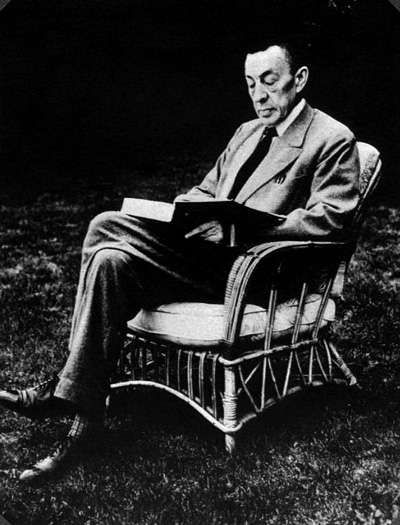 When life is bound hand and foot, art cannot be free.
I look at my early works and see how much there is that is superluous.
I make progress, but actually the more I play, the more I note my deficiencies. Maybe at the eve of my death, I shall know how to play perfectly.
Today the heart is becoming a wasted organ; we don't use it any more. It will soon have become a simple curiosity.
~~~~~~~~~~~~~~~~~~~~~~~~~~~~~~~~~~~~~~~~~~~~~~~~~~~~~~~~~~~~~~~~~~~
Note: After I had finished creating this post, the browser crashed and I had to begin again from
scratch
. Thanks, [}
]Bill Gates[}
]!