Site Creator/ Administrator
Staff member
10,969
United States
California
Palm Desert
I got a great shirt from Nicholas Joseph Custom Tailors. Here's the website:
http://customsuitsyou.com/

The fabric is 2 ply Egyptian cotton, Wrinkle-resistant in a Grey Check/Tattersall with gray and Navy Blue Check, price - $185.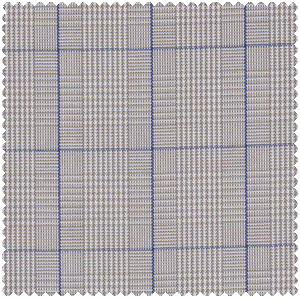 I'm very pleased with the fabric – the feel, fit, and quality, and especially the pattern – good for a dress shirt or it will work well as a sport shirt.
Standard on all the Nicholas Joseph shirts are double thick collars and cuffs, a triangular self fabric gusset, plus genuine mother-of-pearl buttons.
The buttons are very nice but (my personal preference) not those "too thick" hard to button kind!!
The shirt has 8 front buttons including the collar, and the bottom one with a horizontal button hole. Slit yoke, of course – but that was one of the many options, and there are endless choices during the online order process. It's easy and fun to create your own style.
Plus they can make the sleeves different lengths!!! You just have to ask.
I liked the monogram – The choice of location, style and thread color.
Since 2005 Nicholas Joseph has specialized in custom made suits and made to measure suits. They also make custom tuxedos, custom dress shirts, custom pants, custom blazers, custom sport coats, and custom overcoats for clients all over the US, Canada, and Europe.
If you're lucky enough to live in Chicago you can take advantage of their store locations.
GOLD COAST - 21 W. Elm
LINCOLN PARK - 654 W. Diversey
LOOP - 70 W. Madison (Clark side)
SOUTH LOOP – 1351 S. Michigan Ave
But that's no problem if you don't. The website is fantastic, and easy to use.
And I like Nick Hansen's advice and tips on the site.