Just received three beautiful shoes from Herring. Here is my initial review & thoughts on them all.
Be sure to check out the special offers for Ask Andy fans below!
Herring Shoes Review
The first one is spectacular!  May even make a dandy out of Andy!
Tweed and Chestnut

Lining: Full Leather
Sole: Goodyear Welted Leather sole
Heel: Leather 1/4 Rubber Tip
Last: 2003 Last / classic
Origin: UK Herring by Cheaney
The Exford uses the classic 2003 last, making a soft toe shape and slim fit, perfect for this style of shoe.

We have used our exclusive tweed, manufactured by the historic Fox Bros, and the finest chestnut calf to give this style a country look.

Not many loafers can claim to be as at home in the city as they are in the country, but Exford is stylish in any environment.

A matching tweed belt and luggage range are available to complement your wardrobe.
2003 is a classic rounded toe last.
This is a standard fitting shoe so you can confidently order your normal UK size.

I worked with the company's Customer Service on the fit and right size for both shoes.  They are outstanding and can really help you get the right size.
For more information or to purchase:  Exford tweed tasseled loafers
Herring Murlo Driving Moccasin
The other shoe was the Murlo driving moccasin.
Murlo is a classic, hand-stitched, driving moccasin style.
Made to the true moccasin construction using the finest tumbled grain leathers. Great as a driving moccasin, summer casual or slipper around the house.
Lining: Full Leather
Sole: Driving Sole
Heel: Rubber Heel
F – Medium fit sizes
Origin: Portugal
Category: Herring Casuals
Leather shoes from Herring include a shoe horn, shoe bags, and shoe polish in right color for those shoes!
Again these fit great right out of the box.  I wore them for a day and their isn't even a hint of a wrinkle in the upper.  Due to both the right size and the style.
For more information or to purchase: Murlo rubber-soled driving moccasins
Herring Merton Shoes
My latest shoes from the brand are the Herring Merton, made in England, Tassel Loafers in Chestnut Calf with wingtips!
These are made for Herring by Barker on last 69, with full leather lining, Goodyear Welted leather sole, leather heel with 1/4 rubber tip.
Beautiful shoes!
For more information: Merton Shoes
I've been dealing with the company since 2002 and always received great service and the finest shoes at excellent prices.
---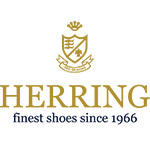 ---
Beautiful shoes, great selection, these folks are great to deal with and the shipping is fast.
History/Background
Herring Shoes is an English family business which was started in 1966 by Richard Herring.
Their goal is to provide top quality shoes from English manufacturers with service to match, through their website and retail shops.
They feature their own 'Herring' brand of footwear which is tailored to today's needs with fantastic styles and top quality, created from years of inside knowledge of the English handcrafted shoe trade.
Over the years Herring Shoes have built close relationships with many of the Northampton manufactures working directly with Mr Andrew Loake, William Barker and Jonathan and William Church.
Adrian, the managing Director of Herring shoes, worked in the Barker factory for a period to learn in detail the constructions & craft of English handmade shoes.
The Herring range is made to the exact needs of their customers and by working direct with the factories they can achieve unique styles.
Sometimes they use existing stock models and improve on the specification by adding additional features, changing sole units or sourcing higher quality leathers for the uppers.
On other occasions they have the opportunity to create their own individual designs and styles which set Herring Shoes, and their customer apart from the crowd.
Plus they offer customers outstanding quality and service by using their direct connections with the factories.
Special Discount Offers
Here are some great offers from Herring for Ask Andy fans:
Herring Shoes 10% Off Coupon Code
Spend over 150 Pounds (Sterling) on Herring brand shoes and Ask Andy Members will receive 10% off by entering AA10 in the checkout area.
Free Shoe Trees
Use code AAST to get a free pair of shoe trees instead.
Please note you can only use one code per order and this offer excludes sale shoes.
Website: herringshoes.co.uk
For more reviews like this, be sure to check out our Reviews category!